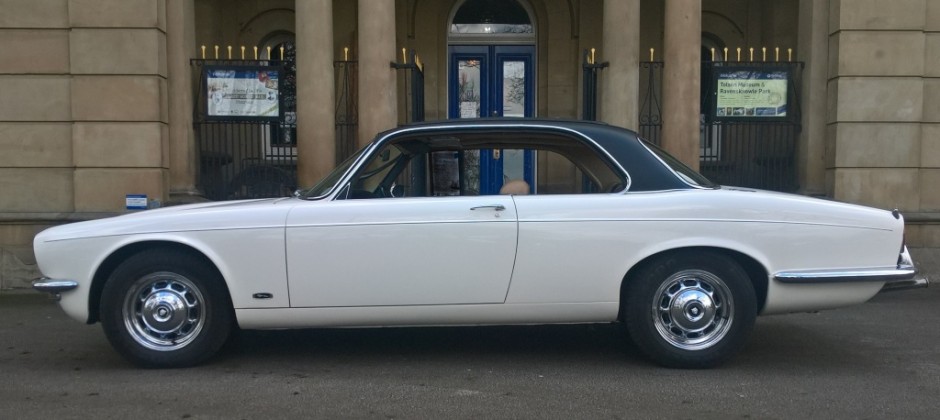 Jaguar XJ5.3C Auto
Sold
Old English White (250) – 1976 – 45,000 miles – 4 previous owner – excellent service – excellent history
Sold
One of the very best available, this Jaguar V12 Coupe is just magnificent. Known to us for over 5 years, we had this car in our workshops for some months in 2012 and carried out an extensive Patina style restoration.  Following an extensive inspection, the shell was found to be in great condition with evidence of some highly professional panelwork to the usual weak areas.  Our restoration began with a strip down of the body, removing the glass and preparing the exterior surfaces for paint.  At this time all areas of rust or rot that were revealed were treated to new metal.  The whole car was shaped up carefully with all panels pre-fitted and adjusted to present the best in panel and shut lines.  Following this extensive bodywork, the car was repainted in its original Old English White and a brand new full length Webasto roof fitted.  At the same time, we carried out extensive servicing and detailing type work on the engine, front and rear brakes, suspension and steering. All bearings, bushes, seals and fluids were changed for new, the interior was removed and re-coloured and a new headlining, cant rails and carpet set was fitted.  There is no doubt that this V12 was brought up to the very best Patina standard.
Driving the car is a real treat.  It starts on the first turn of the key and the turbine whine of the V12 settles down immediately to a steady tickover.  Snick it into gear and depress the faster pedal and it wafts its way effortlessly into the distance.  The power is smooth and relentless and the gearchange almost imperceptible. With all new bushes, dampers and springs the ride is classic Jaguar with just a touch of added control.  Settling into the wonderfully aged leather seat, it is easy to imagine setting off for a relaxed and thoroughly enjoyable continental run where once you hit the sun, the full length Webasto pushed back will give you an almost convertible experience.
Needless to say all the paperwork is present.  There is the original Passport to Service with a good many stamps, there are numerous MOT certificates, lots of invoices and general miscellaneous invoices detailing the ongoing upkeep of the car.
This is not a cheap purchase, but then again it is the rarest of machines in the rarest of conditions – very solid, very reliable, very presentable Patina XJC V12.  Find another one.