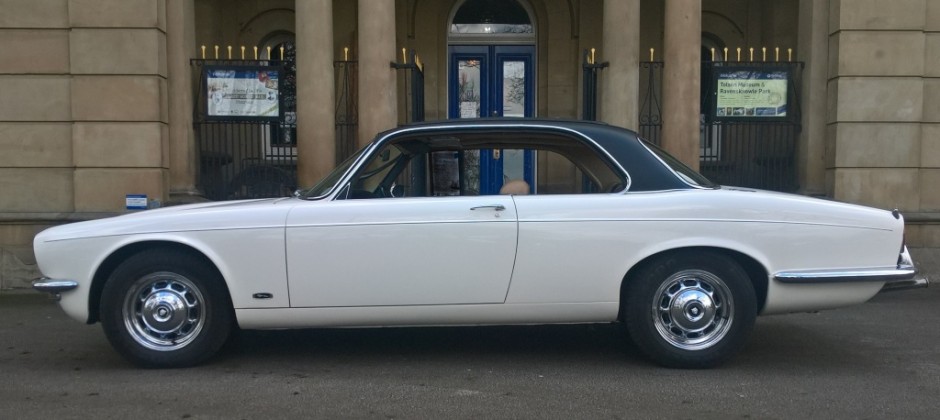 Jaguar XJ5.3C Auto
£29,500.00
Old English White (250) – 1976 – 47,000 miles – 4 previous owner – excellent service – excellent history
£29,500.00
Old English White (250) – 1976 – 47,000 miles – 4 previous owners – excellent service – excellent history
One of the very best available, this Jaguar V12 Coupe is just magnificent. Known to us for over 8 years, we had this car in our workshops for some months in 2012 and carried out an extensive Patina style restoration. The work in 2012 brought the car up to a very high standard and in 2019 we sold it to its current owner. At the time, the new owner, a private car collector, required us to raise the bar even higher with more extensive and complete restoration works. So once again the car was fully stripped, glass out, rubber trim and chrome removed and panels off to prepare the bodywork for a full repaint.
Already in excellent shape,the bodywork was further fine detailed to be pin sharp and then prepared and painted using the Novol Classic Car paint system. The Old English White paintwork is now gleaming in show standard finish. Following the bodywork, the car was rebuilt with new body rubbers, new window scraper seals, new front and rear screen seals. The chromework was rechromed or replaced as required and all lighting was upgraded before fitting.
Undeneath, the car was gone over carefully with new seals, bearings and bushes as required. Running gear, suspension and brakes were all serviced with new parts and cleaned off to a detailed finish. All loose and flaky underseal was removed and then renewed with Bilt Hammer product – the wheel arches getting a new coat of textured stone chip paint.
In the cabin, all seating and trim was removed and prepared for recolouring using Furniture Clinic products and applied professionally with paint equipment in a heat controlled paint booth. At the same time, new peacemat sound deadening and insulation was fitted to deliver the quietest possible environment.
The engine bay underwent further detailing and a extensive service brought the performance right back to where it should be. having undergone a double effort at restoring, repairing and improving this V12 is now as good as any coupe can be short of spending some six figures on a complete rotisserie resoraion..
Driving the car is a real treat. It starts on the first turn of the key and the turbine whine of the V12 settles down immediately to a steady tickover. Snick it into gear and depress the faster pedal and it wafts its way effortlessly into the distance. The power is smooth and relentless and the gearchange almost imperceptible. With all new bushes, dampers and springs the ride is classic Jaguar with just a touch of added control. Settling into the wonderfully aged leather seat, it is easy to imagine setting off for a relaxed and thoroughly enjoyable continental run where once you hit the sun, the full length Webasto pushed back will give you an almost convertible experience.
Needless to say all the paperwork is present. There is the original Passport to Service with a good many stamps, there are numerous MOT certificates, lots of invoices and general miscellaneous invoices detailing the ongoing upkeep.
A rare machine in the rarest of conditions – very solid, very reliable, very presentable and way better than a regulat Patina restored XJ12C