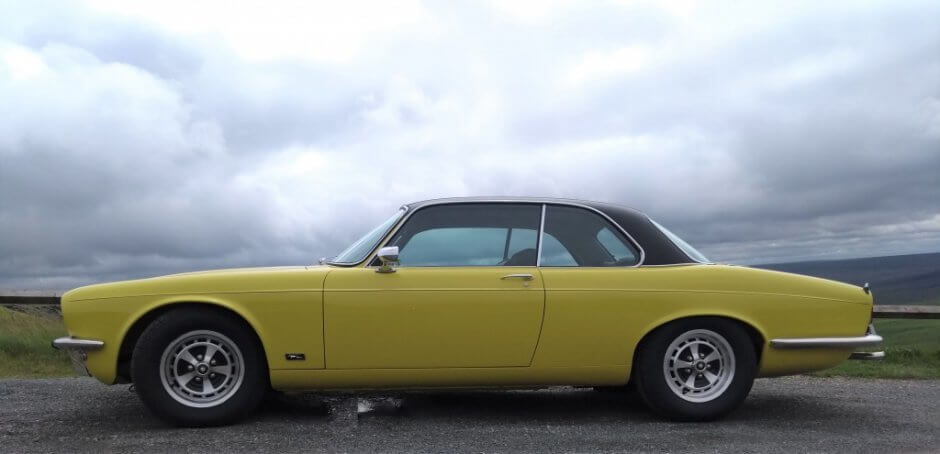 Jaguar XJ5.3C Auto
SOLD
NOW SOLD
Jaguar XJ5.3C Auto – Yellow Gold (FDD/266) – 1977 – 80,000 miles (effectively zero after rebuild)  – 5 owners – Some very nice history.
Available as Miles Classic Restored option:
SOLD
A quite simply magnificent, better than brand new Jaguar XJ5.3C restored regardless of cost in its original Yellow Gold paintwork and black leather interior.
Purchased by its current owner over 4 years ago with the sole intention of producing a nut and bolt concourse rebuild, PHR 439R came with some very nice history, service record and paperwork which included the original stamped Passport to Service , Owner's Handbook, previous MOT certificates and some old tax discs.
Having undergone a complete and exhaustive restoration at Miles Classic, taking 12 months and costing close to six figures, this beautiful car has covered less than 1000 miles since.  With no item left unattended to, this has to be one of the very best examples of this wonderful and appreciating classic anywhere in the UK and indeed the world.
Owner specified to remain as close to original equipment as possible, with just one or two sensible unseen improvements, PHR presents today as if holding pride of place in a prestigious 1970s Jaguar main dealer showroom.
Having been completely stripped, the body-shell was media blasted and hand cleaned to bare metal. Some 400 hours of panel work was then spent tackling every sign of rust, rot, dent or dink – cutting out and replacing any corroded or damaged bodywork with bespoke made or available panels.  Amongst items replaced were inner and outer sills, floor pans, front cross member, fuel tank closing panels, front and rear valance.  Once the metalwork was complete, many more hours were spent fitting, shaping and re-fitting panels and trim to ensure excellent lines and gaps.  Following a multi-stage process of painting using the Novol classic car paint system, the Yellow Gold body-shell emerged better than it left Browns Lane in 1977.
At the same time the bodywork was being perfected, the interior was being fully re-trimmed in Bridge of Weir soft black leather.
The mighty V12 didn't miss out either.  Removed and stripped, it was rebuilt from scratch with new pistons and rings, new con rods and bearings, it had new timing gear, a new oil pump and water pump. The head was skimmed and new valves, valve guides, springs and seals were fitted. The ignition system was uprated, all fuel and air delivery parts exchanged or reconditioned, new fuel injectors fitted and all components either cleaned off and repainted or plated and passivated as per original finish.  Mated to the engine, the gearbox was sent for specialist reconditioning.
Front and rear sub-frames were removed and underwent complete reconditioning and any serviceable item was replaced and uprated as required.  All bearings and bushes were uprated.  Suspension, brakes, diff, prop shaft were reconditioned or replaced to as new.
The steering system was reconditioned and renewed, the fuel system was reconditioned and had new fuel tanks as well as pumps and change over valves, the chrome-work was re-chromed, the headlights and tail lights were new and uprated.
Fitting the freshly trimmed seats, the dashboard and all clocks and switches were reconditioned, the headlining replaced, the front and rear header rails replaced, the cant rails were replaced, the door cards were replaced and re-trimmed to match the seats as well as the centre console – a new carpet was fitted over the already generous sound deadening material.  The steering wheel was reconditioned.
Putting the car back together, all new screen, side window, scraper and door seals were fitted.  Care and attention was given to the refit of all components and sub-assemblies to ensure everything was fitted perfectly, worked properly and presented beautifully.
Enjoying the luxurious and classic surroundings of sitting in the car as driver or passenger does something to prepare you for the experience of travelling in this effortless Coupe, but not everything.  It is still somewhat of a surprise to feel the turbine like power, smoothly delivered via the unhurried auto box.  Before you know it, you are gliding along at legal limits, suspension wafting you calmly down the road to your destination.  Expert fitting of the side windows, means you only get a slight wind noise from the pillar-less design, but given the limitations of the then Jaguar engineering this is a very quiet Coupe.  Brakes are progressive and effective, steering direct and responsive and unless you really think about it, you could be mistaken for thinking you are in a recent model high value saloon.
There is so much more that could be said about this uncompromising restoration, but put simply, PHR is a brand new Jaguar XJ5.3C.  If you are looking for a brand new Jaguar XJ5.3C, this is the car for you.