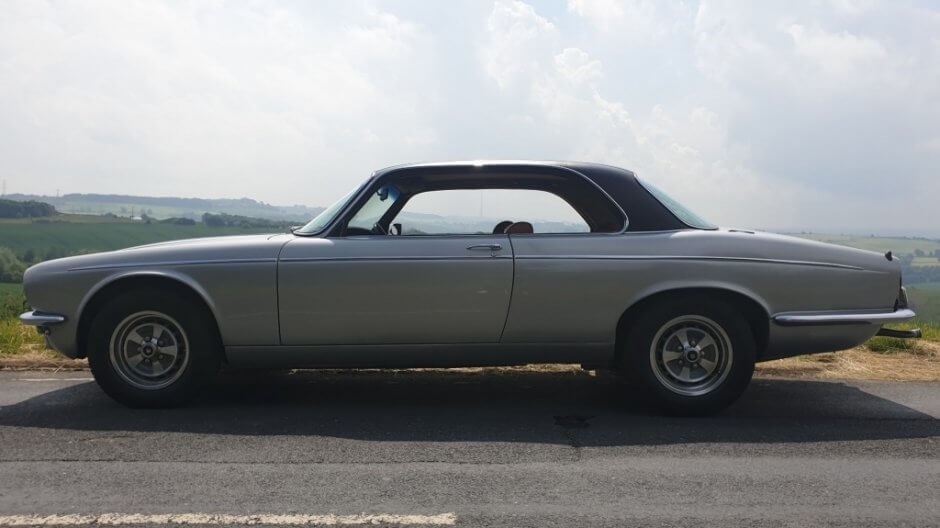 Daimler Double Six Two Door Saloon Auto
Sold
Daimler Double Six Two Door Saloon Auto – Silver Grey Metallic (701) – 1975– 86000 miles – 7 owners – some history – recently well documented
Available unrestored:
Sold
This striking silver with red leather V12 Daimler Coupe is a very nice example of what is probably the rarest production car ever to emerge from Browns Lane.  With few being built and fewer remaining, these beautifully proportioned and elegant cars are now very definitely regarded as a fast-appreciating classic.
In useable, rather than show condition, this could quite easily represent the last opportunity to get into a Double Six Two Door Saloon for reasonable money.  Those who have them are now choosing to keep them, restore them or simply advertise them at telephone numbers.  In any case, the cost to secure one is going up.
Having an interesting past, it appears that NBO 977P was exported to Sweden in around 1987 where it remained until 2018 when it was repatriated and sold through Classic Car Auctions to its current owner.  There is not much in the way of information before the trip abroad, but it comes with a thick file of quite frankly unintelligible invoices showing that thousands and thousands of Swedish Krona has been lavished on the car during its time in Oslo. It is clear that the owner enthusiast was committed to keeping his Daimler in good condition and this is certainly reflected in the appearance and performance of the car today.
Once sold through CCA, the new owner was responsible for re-registering the car with DVLA and this has been completed satisfactorily with all the necessary paperwork and a new V5 in evidence.
Since 2018, thousands and thousands of UK pounds have been lavished on the car, and this has been in respect of maintenance, rolling improvements and some recommission work.  There is little evidence of any major issues recently or in the past with respect to the bodywork or mechanicals and this Coupe presents as a clean, honest and reliable classic.
Having had paintwork many years ago, the bodywork is typical of a good coupe prior to restoration, with the odd blister, bump and scratch, but basically a very solid and sound shell. There is the black paint on the rear edge of the boot lid, which looks like it is hiding something, but isn't.  Perhaps a stylish Swedish nod to the early XJS, who knows.
Over the last few years, a great deal of engine work was undertaken to ensure perfect operation, fuelling and running.  Here at Miles Classic, we have had the car in a number of times to resolve small issues and ensure the running gear, brakes and suspension, bushes, bearings and electrical items are all up to standard.
The car looks very well in period silver with red leather interior and the combination delivers a quite dramatic sense of style.  Settling into the driving seat and listening to the quiet turbine like whine of the V12 just makes you feel like setting off on a long trip.
And the car drives exceptionally well.  It starts every time on the button, with the fuel injection settling quickly.  Putting the car in drive it begins to move off imperceptibly and simply wafts its occupants down the road without any drama whatsoever.  Useful power teamed with silky gearchanges and the XJ fits into modern traffic like it was built last year. Oil pressure is well over 40psi when the car is warmed up and ticks over at around this figure when idling.  The coolant temperature makes its way to the vertical position and remains there whatever the weather and whatever the journey.
Everything on the car works as it should, the windows are fast and smooth, the lights ae excellent, all switches, dials and clocks work perfectly.
Surplus to requirements for the collector owner who has a brace of exceptional Coupe's, this Daimler will make a splendid everyday classic and could be enjoyed as is with just a little ongoing TLC for years to come.  If you prefer, it can form the basis of a very sound rolling restoration project which will undoubtedly secure a significant profit in the long term.