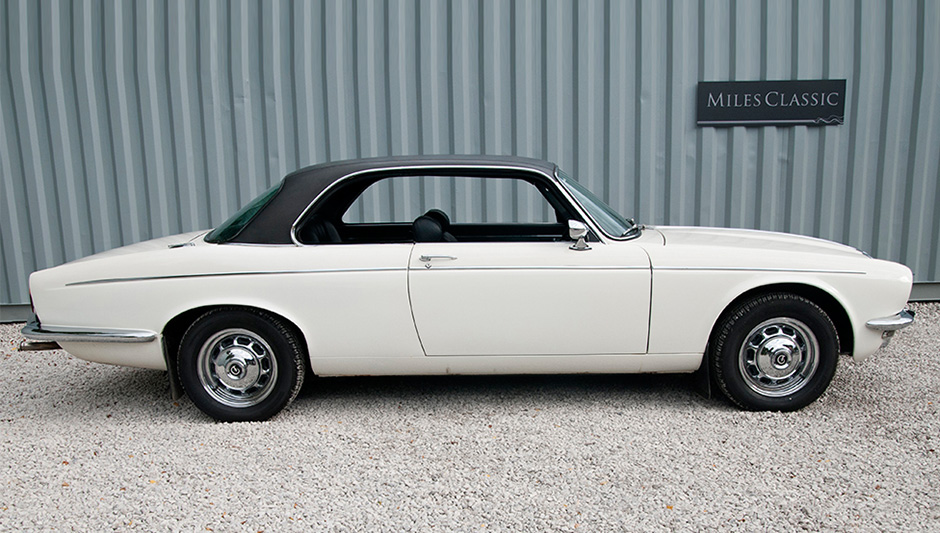 Daimler Sovereign 4.2 Auto 2 door saloon
SOLD
Old English White (250) – 1977 – 53,000 miles – 2 previous owners – stamped Passport to Service – complete history – MOT June 2015
Available now with full MOT
This is a very well looked after low owner, sensible mileage example of the Jaguar XJ4.2C. Having been a dealer demonstrator for the first few months of its life, it is a virtual two owner car, with the first private owner keeping the car from 1977 until 1993. The second private keeper, an ex-jaguar mechanic, then purchased the car and kept it for some 20 years until it was purchased by Miles Classic in October of 2013.
Paperwork includes the original Passport to Service which was stamped by the supplying dealer up to 17,000 miles. Being a Jaguar mechanic, the car was then serviced and properly maintained by the second owner who quite correctly did not stamp the book, though he did keep a record of his work. This work is supported by a nearly continuous collection of MOT certificates dating back to 93 which shows that the car, although doing low mileages, has not had a significant period off the road.
Through its life, this coupe has had attention to the bodywork, mechanicals and trim, but it has by no means undergone what could be described as restoration.
Purchased in Hampshire and driven back to Yorkshire that day by the MD, he assures us that the car never missed a beat, cruised at 70 without a problem, was quiet, with good oil pressure and was a pleasure to bring back. He even had a couple of thumbs up from baseball cap wearing youths in an Audi and a moving motorway photo opportunity from a white van man's mate.
Presenting beautifully in one of the best combinations of Old English White and dark blue leather, this is a very well sorted and attractive car.
Having benefitted from two services in our possession and the fitting of a fully guaranteed reconditioned gearbox, the car is fully up together, it has recently covered good mileage in the hands of the MD, is reliable, smooth and can be driven away from our workshops and used every day without any further attention.
Unmolested cars in this condition and at this money are getting rare to find and this one certainly provides the perfect opportunity for a new owner to enjoy classic coupe motoring with minimum outlay and fuss.