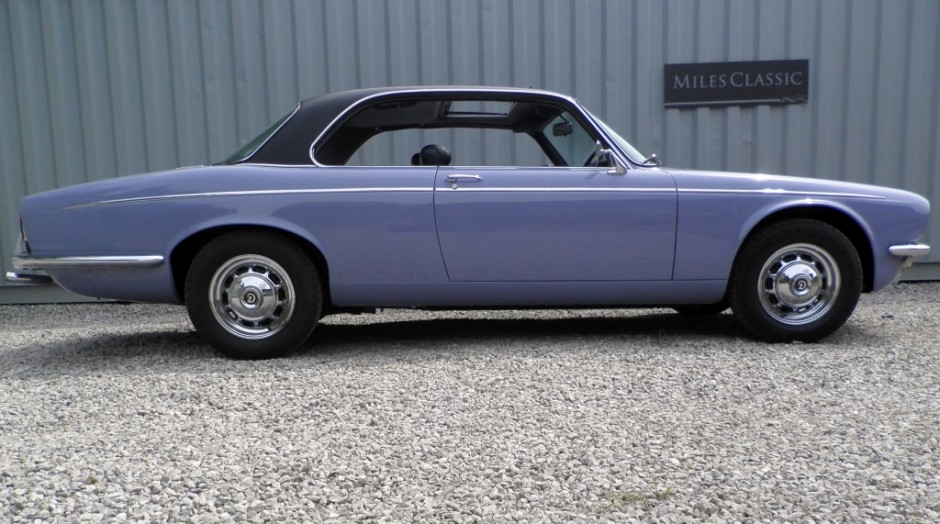 Daimler Sovereign 4.2 Auto 2 door saloon
SOLD
Lavender Blue (256) – 1978 – 26,000 miles – 4 owners – stamped Passport to Service – complete history – MOT June 2015
Classic Car Show price held over for winter – SOLD
Quite simply the best original Daimler Coupe we have ever seen. This car is only bettered by our very own nut and bolt restored version and is even better than the MD's own 20,000 miles Moroccan Bronze car… much to his consternation.
Presented in unmarked, and wonderfully quirky Lavender paint – the deep shine and smooth lines of the bodywork are nothing short of perfection. A thing of astonishing beauty, there is not a single blemish to be found anywhere. The chromework is bright and spectacular, the shutlines are pin sharp and the wheels are like new.
Featuring a factory fitted steel sliding sunroof which operates as it did the day it left Browns Lane, this Coupe is rare even by Daimler Sovereign 2 door saloon standards.
Move inside and the picture is no less amazing. The headlining and trim is as new, the seats are a glorious deep navy blue showing a tasteful patina any gentlemen's club would be proud of. The woodwork is faultless and all the switches and buttons work as they should.
This high quality impression continues in the driving. Starting every time with a gentle squeeze on the key, the engine idles calmly and performs with gusto all the way up the rev range. The gearbox is smooth as silk and the running gear soaks up the miles in total relaxed comfort. A very reliable car and one so obviously dressed in summer clothes, it is the ideal car to waft down to the French Riviera without fuss, delivering you refreshed and in classic style in time for a G&T before dinner.
The car comes with a history file the envy of classic car enthusiasts everywhere. A thick wallet with all MOT's invoices, ownership details and paperwork dating back to it's initial sale. The Passport to Service is present and fully stamped having it's latest full service at Miles Classic just ten miles ago.
Having been detailed to within an inch of its life at Miles Classic, this is a truly remarkable motor vehicle and we are confident that there is no better non-fully restored car out there. This is not for you if you are looking for one of the best, this is for you if you are looking for the best.
You will not be disappointed.