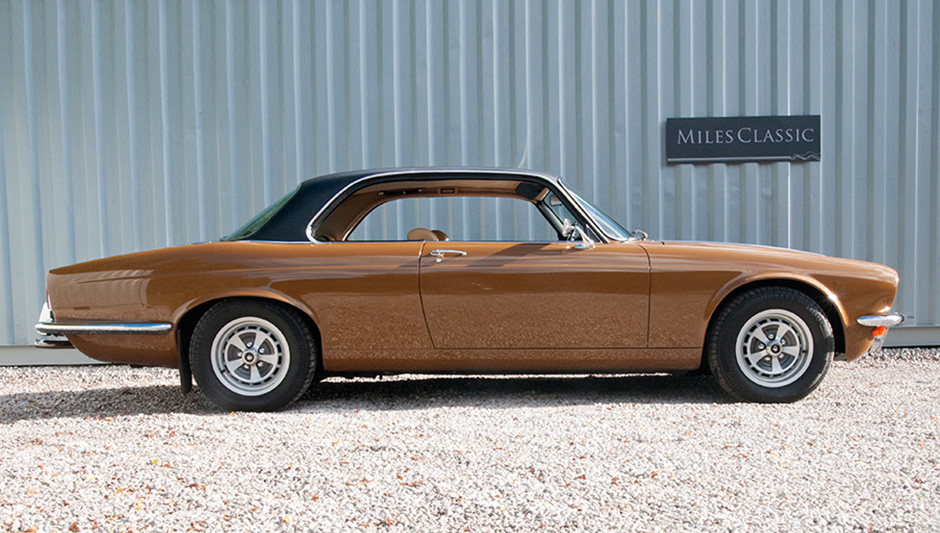 Daimler Sovereign 4.2 Auto 2 door saloon
SOLD
Moroccan Bronze (267) – 1978 – 20,000 miles – 2 owners – stamped Passport to Service – complete history – MOT May 2015

Available as Miles Classic Patina
Period colour, low owner, low mileage coupe having had just two former keepers and covered only 20,000 miles in its 34 years. Owned from new until 2011 by its first keeper, the car was then registered to the trade, being bought by the owner of Miles Classic in May 2012.
Having the original stamped Passport to Service, MOTs back to 1985 and the original V5, the history is complete and shows a period of storage between 1995 and its re-commission in 2012.
At this stage the car was subject to a high quality back to metal repaint and some mild restoration to make it roadworthy. Since this time, it has undergone a Miles Classic Patina restoration and is now a beautiful, well sorted and reliable car.
Having completed a thorough inspection, all worn, tired or suspect components have been replaced or restored. The bodywork and chassis was found to be in perfect order with no rust or significant repairs. Paintwork and chrome have been detailed and the interior trim has had attention and presents beautifully with a wonderful lightly worn patina. The door and panel shut lines have been attended to and are now beautifully spaced, professionally fitted new carpets enhance the gloriously patinated interior and new door and window seals finish the faultless exterior in fine detail.
The car has benefited from a full factory schedule service with all fluids, filters, spark plugs, ignition leads and brake pads renewed. The engine has been compression tested and pulls strongly all the way through the rev range; it runs at the right temperature in all conditions, keeps perfect oil pressure and is mated to a smooth gearbox with potent kick-down.
This coupe is now fitted with electronic ignition, new dampers and springs at the rear and new adjustable dampers up front. Having road tested the car personally for hundreds of miles, the managing director guarantees that this particular coupe drives as it should, looks its best, and is now a wonderfully original and totally reliable daily driver.
One of the best available.