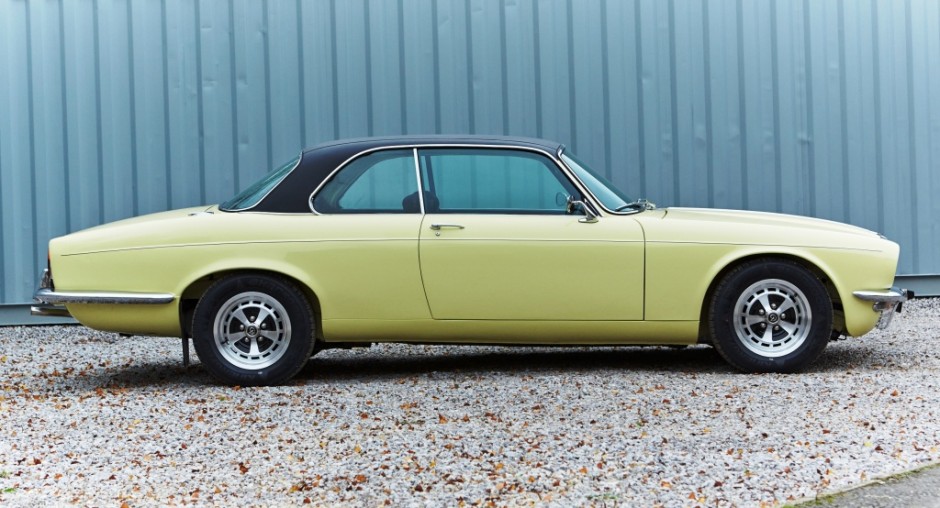 Daimler Sovereign 4.2 Auto 2 door saloon
SOLD
Pale Primrose (251) – 1976 – 29,000 miles – 2 previous owners – new Passport to Service – history to begin when purchased
Classic Car Show price held over for winter now at £28,000.00.  A virtually new coupe at nearly half build cost!
REA 130R was purchased new on the 4th October 1976 by Mrs Esther Astbury of Cannock who owned the vehicle for 12 years until she sold it to a near neighbour, Mr Walter Swift on 1st August 1998.
The car was used sparingly by both owners and the mileage of 28,000 at the time of its restoration is believed to be genuine. Miles Classic purchased the vehicle from the second owner's wife who has unfortunately misplaced all the paperwork, though there is a letter on file from Mrs Swift indicating that the car was not used all that regularly by her husband, supporting the low mileage prior to restoration.
This coupe has now completed a Miles Classic Restored option, removing, renewing, replacing or reconditioning every part, panel, bush, shim, nut and bolt – attending to the mechanicals, suspension, brakes, steering, chassis, bodywork, glass, seals, chrome and trim; and including a full glass out repaint and new parts rebuild of the engine and gearbox.
Wherever possible, new original components have been used, where original look but improved performance components are available they have been used to present a better than new finish, and where components are no longer available the very best restored parts have been utilised.
It was not our intention to build a concourse rules competition winning car, but it is now to all intents and purposes as near new as possible and in some areas better than new.
Finished in the original Pale Primrose and with black cloth (velour) interior, the car has been returned to the original specification.
As a Miles Classic Restored car, it is available with a brand new Passport to Service with its very own "new life" pre-delivery inspection stamp and the option of resetting the odometer to zero. Obviously, we will provide all the current history with the car including evidence of its project start mileage so there will be a continuous record of the car's life, even though it is making a new start.
Providing the level of attention to detail, fit and finish usually reserved for E-types or more exotic classic cars, this is a rare opportunity to own what we think will be the very best and effectively brand new Daimler Sovereign 4.2 Auto 2 door saloon available anywhere.
The more keen eyed amongst you will be aware that this vehicle has been for sale in London and surrounding area high end classic car showrooms at £40,000.00 and be assured, the car is worth every penny. At this price it is available at significantly under the build cost and although easily the most expensive (at the moment) XJ coupe variant on the market – represents true value for money and an opportunity to invest in an appreciating and beautiful classic car.