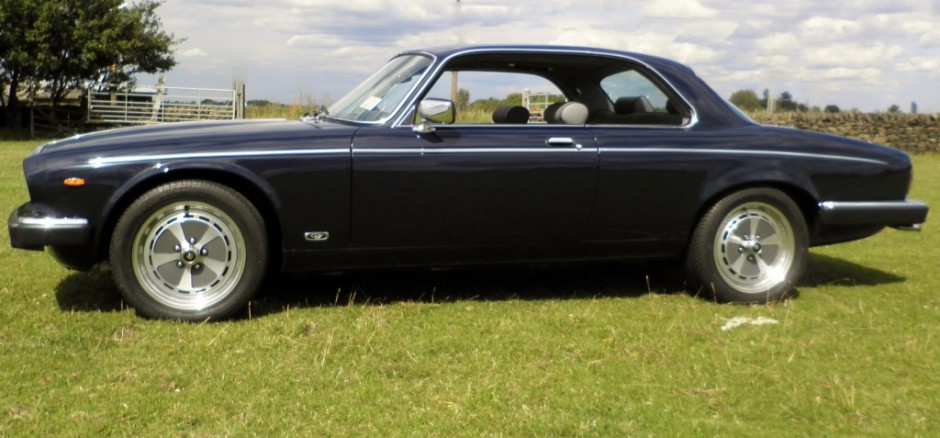 Daimler Sovereign 4.2 Auto 2 door re-imagined
SOLD
Westminster Blue (JFG) – 1978 – 3,000 miles since restoration – New Passport to Service – MOT August 2016

SOLD
This car is quite simply one of a kind. The lifetime Jaguar enthusiast owner purchased a tired Daimler Coupe in 2003 with a plan to restore it. Having already researched the model extensively, he began the project immediately and didn't consider it complete until some six years later.
Trusting the work to local craftsmen with more than a little input from himself, the car was stripped to a bare shell and the rust and rot was rectified. Old new stock as well as reproduction panels were used in what is clearly a first class restoration. The car is rock solid and presents in excellent shape, the underneath is gleaming and as good as any we have seen at Miles Classic.
The exterior has been sensitively updated to incorporate Series 3 bumpers, rear lights and boot plinth, Series 3 door handles as well as chrome trim and the removal of the vinyl roof.
The 4.2 XK engine was stripped and inspected. It was found to be in good serviceable condition and was thoroughly cleaned and rebuilt. It was fitted with new big end bearings, small end bearings, camshaft bearings, piston rings, timing chains and guides, oil pump, main oil seal and water pump.
During the rebuild, the engine received a Series 3 cylinder head with new valves, seals and springs. This was mated to a triple SU carb and manifold arrangement that looks as good as it performs. A six branch bespoke tubular exhaust manifold by Haywood and Scott completes the stunning under bonnet appearance. Things you can't see but are nevertheless significant include 123 electronic ignition, a later type BW66 gearbox and an uprated starter motor. Since the rebuild it has completed just 3000 miles.
On the inside, the story continues. Suffolk and Turley were charged with supplying a full Series 3 style leather interior- so it now features door cards with puddle and warning light combination, wooden inserts to door cappings, rear reading lights, rear head rests and extended carpeting. The Saville grey leather and blue piping is as new and looks just right, sitting alongside a full matched burr walnut Series 3 centre console and dashboard. The attention to detail on fit and finish is second to none and makes the cockpit a luxurious and relaxing place to be.
Both front and rear axles were removed, stripped, painted and rebuilt using new and uprated replacement parts where available. An uprated anti-roll bar by Harvey Bailey Engineering was fitted up front together with adjustable shock absorbers and all reconditioned brakes. At the back, the later type anti-roll bar was fitted along with trailing arms and new adjustable shocks.
There is simply too much to list in the specification of this most personal of uprated and detailed restorations. Although the changes may not be to everyone's taste they are subtle, beautifully engineered into the whole and certainly provide the coupe with an updated appearance.
What cannot be argued is that the car drives like a dream, the suspension mods and the specially made 17inch Kent replica alloys give the car a surefootedness and planted feel standard coupe's simply don't have. It runs without a problem, the gearchange is smooth and absolutely everything works faultlessly – even the LCD screen and DVD player.
Perhaps a love it or hate it kind of car, we think this is as nice an updated vision of the coupe as we have ever seen. It is superbly bolted together, the depth of the restoration has left nothing to be done and it runs and drives like new. If you want something a little bit different in a car that is rare and appreciating, this is definitely worth a visit.