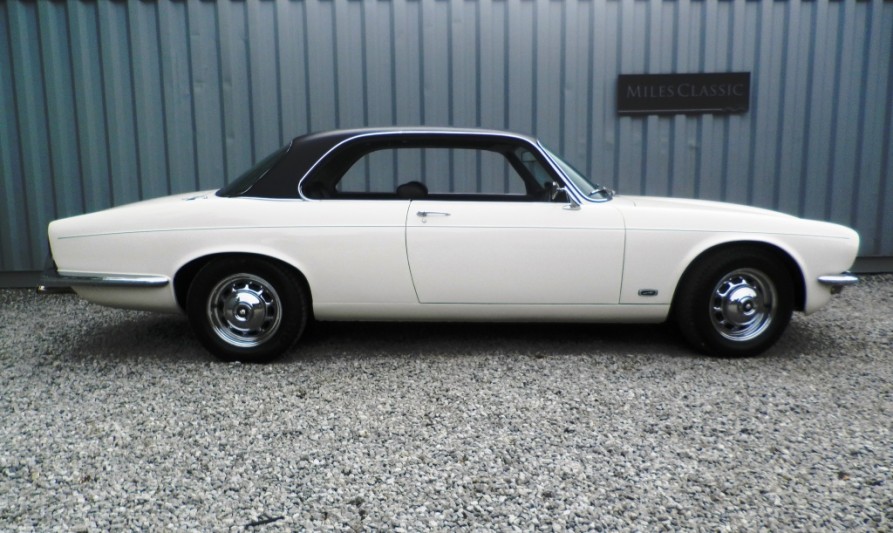 Jaguar XJ5.3C Auto
SOLD
Old English White (250) – 1976 – 79,000 miles – 1 previous owner – total service – total history
Available unrestored with full MOT and service
In a class of its own, this Jaguar V12 Coupe is just magnificent. Impossible to say that it is original, as there is evidence in the paperwork of a minor restoration way back in 1984 when it had sills and new front wings; and it has clearly had some very expensive and high quality paintwork and detailing in its past for it to look so pristine 38 years after it was first sold.
The real secret to this car is the fact that the second owner purchased it in 1982 with 39,000 verified and fully serviced miles on the clock. Meticulous in his every action, he then maintained and serviced the car regardless of cost and used it in the summer every year for 32 years, adding an average of 1250 miles a year. Totally without compromise, this car has truly had everything it has ever needed. Taking his Jaguar Specialist friend with him to purchase the car, he then returned it to this same gentleman's workshop at least once a year and regularly more often for its annual service, remedial work where needed and MOT. The service history of this vehicle is second to none and is a true testament to its owner and the mechanic who looked after it for so many years.
Needless to say all the paperwork is present. There is the original Passport to Service fully stamped to 47,000 miles. Thereafter there is an invoice detailing every service for every year up to 2013, there is every MOT from 1981 and other miscellaneous invoices detailing the ongoing upkeep of the car.
Coming to Miles Classic very recently, we have undertaken a thorough inspection of the car and found little to occupy our time. We have serviced the brakes, replaced the front dampers, attended to some minor bodywork issues and generally tidied up the interior. With a car of this quality, history and condition, we are very much of a mind to present it honestly and without too much work prior to interested parties seeing it.
To complement its astonishing visual appearance, this coupe starts first turn every time, the engine ticks over smoothly, oil pressure is excellent and the effortless way in which it powers quietly down the road is one of the most pleasing driving experiences imaginable. The brakes are perfect, the ride is unnoticed and even the slight wind noise from the notoriously difficult to seal windows does nothing to spoil the joy behind the wheel.
This is a Coupe without equal, the rarity of the model and history alone make it a sensible investment, but the condition and the way it drives place this car in the premier league of every day, useable and affordable classics. We also think it is the prettiest model Jaguar have ever made but then we might be a little biased on this point!