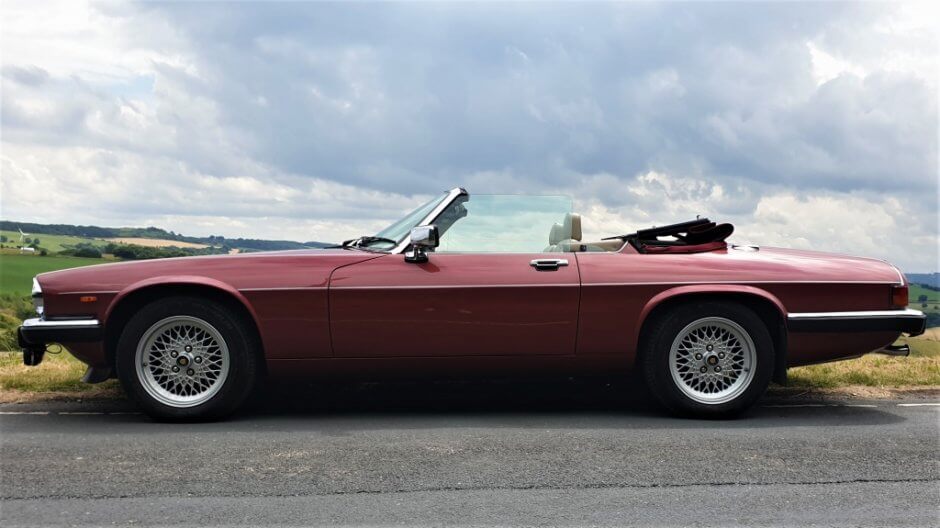 Jaguar XJ-S V12 Convertible Manual Gearbox
£18,000.00
Bordeux Red (CEK) – 1988– 60,000 miles – 4 owners – 5 speed manual gearbox
Available with full MOT
This is a really nice and very well sorted pre-facelift flagship Jaguar XJS 5.3 V12 convertible with a professional 5 speed Getrag manual gearbox conversion. Although I have no documentation to back up the service history, mileage or stick shift work, I have had the car in the workshop and gone over it with a fine-toothed comb.  Purchased in the last 12 months by a Miles Classic car collector customer, he asked us to bring an already great car up to his own impeccable standard and as well as carrying out a full health check and factory service we have also fitted a new stainless steel exhaust, new front brake calipers, discs and pads, reconditioned the steering rack and fitted new wheel bearings. The car now looks, goes, handles and stops and generally does everything without missing a beat.
Used sensibly throughout its life which has helped to keep everything moving and working as it should, the added benefit of a thorough going over by Miles Classic makes this an extremely enjoyable car to spend time in.  It starts first time every time, the engine settles quickly and the direct shift into first gets you off the line with an impressive shove.  The engine is tight and smooth with excellent oil pressure, gearshift is new car direct, steering and suspension compliant but with the right amount of resistance – it really is impossible to criticise how this drop top gets down the road.
Inside, the Buckskin leather is in perfectly patina, all dials, knobs, switches and electronics work faultlessly and this includes the wonderfully convenient power hood.
On the outside, the Bordeux Red paintwork stands up beautifully, the wheels, the tyres, the chrome, the expensive twin headlamp upgrade and even the colour coded mohair roof all combine to present an impressive and most attractive vision.
Having been unable to resist a different XJS at twice the price, the owner now has one too many 80s Jaguar's and has asked me to sell on his behalf.  I am under no illusions that the lack of paperwork hits the value of this car hard and as such I have persuaded the owner to ask a very reasonable figure to get it away. Be assured however, that this is an excellent car, wonderful to drive, especially with the extra control supplied by the manual gearbox, cosseting and comfortable to be in and very definitely at home on any continental promenade.  Come and have a look and test drive, you won't be disappointed.