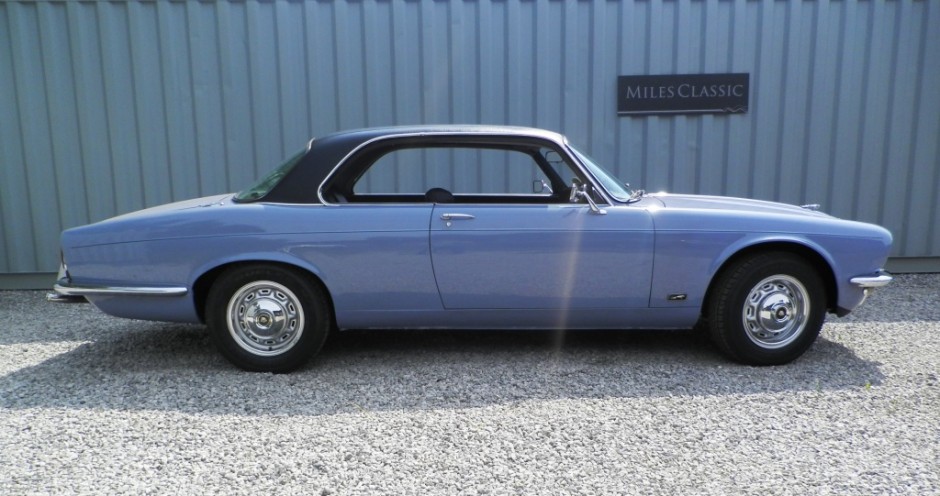 Jaguar XJ4.2C Auto
SOLD
Lavender Blue (256) – 1975 – 70,000 miles – 3 previous owners – stamped Passport to Service – good history
SOLD
A remarkably well preserved XJC, this low owners, relatively low mileage car is in wonderful almost original condition. Sold to its first owner by Mann Egerton, in High Wycombe on the 9th May 1975, this car has clearly been treated as a Jaguar should since that day.
The original Passport to Service shows the PDI and 18 further stamps filling the book and taking the car to July 1981 and 48,000 miles. From 1981, there is a lack of official documentation to prove mileage and use, but it is picked up again in 1991 with an MOT showing 65,000 miles and this is consistent with a car of this type and age at the time and is believed to be correct. Further MOTs show the car to be in use right up to this year.
Sporting very of its time lavender blue paintwork and dark blue full leather, this coupe certainly presents a striking vision. There has been some paint in the past but it has been nicely done. Mechanically the car is without fault, everything works as it should and it starts on the button, maintains great oil pressure and idles quietly. The drive is calm, the gearbox is smooth and it gets down the road as well as any coupe we have driven.
This is a really nice car which having had a detailed inspection has now been brought up to exceptional standard. Whilst in our possession it has had two services, brand new front brake discs and pads, five fully reconditioned road wheels, door mirrors have been fitted and the gearbox, brakes, suspension, running gear and steering have all been attended to. The bodywork is finished to an excellent standard with no rust or rot and a professional buff and polish has brought out the true glory of this very rare colour. Sold with full MOT and ready for everyday summer use and perhaps even the odd clear day in winter, this attractive coupe will certainly draw attention wherever it is driven.