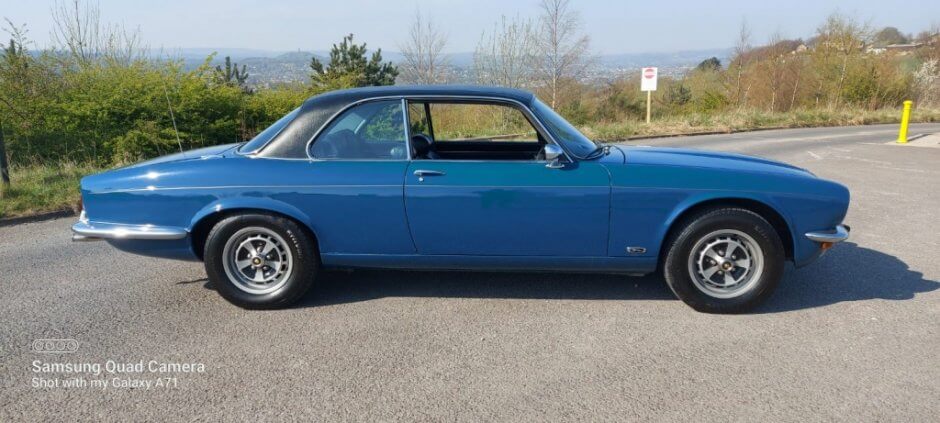 Jaguar XJ4.2C Auto
SOLD
Jaguar XJ4.2C Auto – Squadron Blue (265) – 1978 – 98,000 miles – 11 owners – MOTs from 1988 – large file of invoices
Available unrestored:
Sold
Aremarkably well preserved XJC which has benefitted from regular use and years and years of ownership expenditure to maintain it to a very high standard.
To drive this car is to truly appreciate the amount of effort taken to keep it on-song in every department, from the engine performance, fuelling, gearbox operation, drivetrain, suspension and brakes.  From a mechanical point of view, AYC 91S is as good as cars that will command very close to the top end of the market value for this appreciating model. The reason for this is a continuous level of care from all its previous owners, supported by a no compromise, money no object rectification and upgrade programme followed over the last few years by the current fastidious collector owner.
Attended to by specialists Miles Classic, AYC 91S has recently been fitted with the early style HS8 carburettors which not only fuel the XK4.2 engine much more sweetly (if a little more expensively) but do away with the troublesome AED units in favour of an original equipment style manual choke to resolve all those cold start issues.  Combined with a full engine service, this car now fires on the button every time, runs smoothly and is one of those rare motors that seems to pull just that little bit harder and faster than the usual still very responsive XK unit.
The gearbox has been fully reconditioned by specialists and although still fairly relaxed and imperceptible in changes, the car gets off the line and down the road at a deceptive lick and keeps going all the way up to good motorway speeds.  Keeping up with modern traffic with ease, progress is swift, smooth, calm and enjoyable.  There are no knocks, bangs, bumps or unusual noises. The ride is Jaguar compliant and the stoppers all work as they should.
The history file shows extensive work on the suspension, cooling, brakes and some new panels when the car seems to have been last painted in 1990.
In terms of the bodywork, the paint and some panels are showing signs of age, there is the odd minor imperfection, some surface rust issues around the lower front wings, doors and lower rear wings, but a thorough inspection shows the car to be solid and strong in all the areas that might be considered troublesome for Coupe shells.  The issues are minor and of a cosmetic nature.
Inside, the trim is in glorious patina style, the blue leather and vinyl upholstery holding up very well and suiting the general original and undisturbed appearance of the package.  Everything works as it should, it is a pleasant place to be whether driving or being driven and the best thing of all is the certainty that whatever the  journey, it will be made in style, in time and completed without unwanted drama.
AYC 91S is a very good Jaguar 4.2 XJ Coupe and will provide instant driving pleasure to any new owner without the need to invest an immediate injection of cash, which is often the case on this model in this price range.  A reliable and honest example that will only get better with continued responsible ownership – AYC 91S will not disappoint.