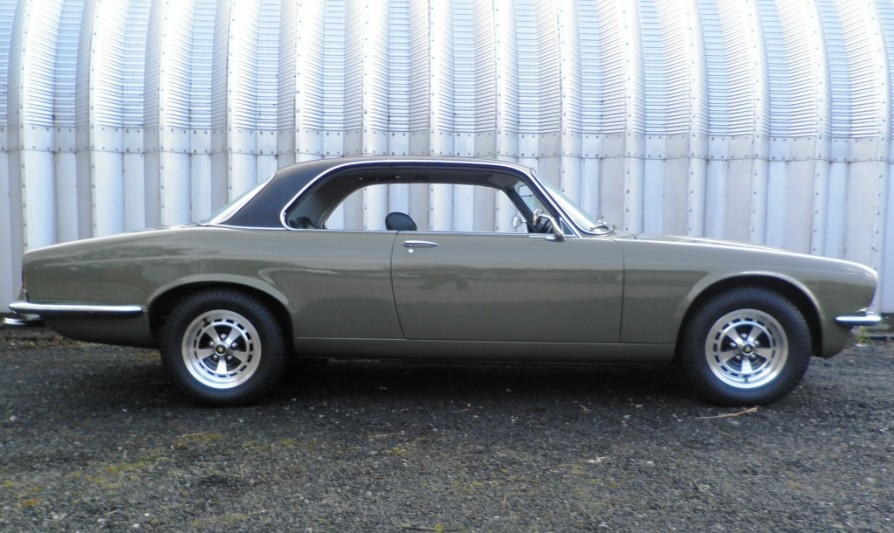 Jaguar XJ4.2C Auto
SOLD
Fern Grey (253) – 1975 – effectively zero miles – brand new – new Passport to Service with PDI and free first service – history to be made
SOLD
Completed in late 2014 this car was sold for much more than it appears at today to a private collector who is now ready to move it on for a different choice.  Having completed just 200 miles the car remains in the same condition as it was when it left our workshops.
Nothing has been missed, left out or compromised in this better than brand new complete restoration of a Jaguar XJ 4.2 Coupe.  The body shell has been stripped back to bare metal and has had over 250 hours panel work to bring it up to spectacular condition.  All welding is invisible to present an as new shell, though the attention to detail unseen makes it an improvement on the original.  Paint application includes etch primer, zinc primer and high end two pack base over lacquer colour process.  The Kent alloys have been powder coated front and back and then turned to reveal the correct silver finish.  The car is showroom gleaming.
All the running gear has been removed, stripped and where available all new components fitted.  Suspension is new, brakes are new, steering is new, bushes are new, mountings are new, bearings are new.
The engine has had a complete rebuild from scratch with all new components.  New bearings, new pistons, new valves, new valve seats, block decked, heads skimmed, new oil pump, new water pump, new distributor, fully reconditioned twin SUs, new service parts all round, just everything you can think of has been done.
The interior has been fully retrimmed in leather with a nice upgrade of double stitching.  New headlining, cant rails, new carpet, new furflex, leather centre console and dash top.  New dashboard and reconditioned switches and dials.  The interior is exquisite.
All in all, an exceptional restoration with an attention to detail you simply will not find this side of a £50,000.00 classic car.  Available at over less than half the current build cost, this delightful automobile can be yours for just £35,000.00
As well as presenting as a brand new car, MRX comes with a complete with a stack of invoices, paperwork and personally written history showing that this car has clearly been looked after and beautifully maintained all its life.
Unfortunately missing official documentation, the best historical evidence is a handwritten piece accurately describing the life of the car from June 1982 through to November 1986 including all work done and mileage. The invoices from this period support the story.
Purchased with MOT after repatriation to the UK having been in France since 1992, this car was a little rough around the edges but perfectly usable. For a time considered for use as a daily run around, it found itself in the workshops just as the team were ready for a new project. As such a plan was drawn up to complete a Miles Classic Restored option and work began.
Now available as a brand new car from Miles Classic, the new owner will receive a new Passport to Service with PDI and free first service.  It is then up to them to create the second history for this very special automobile.