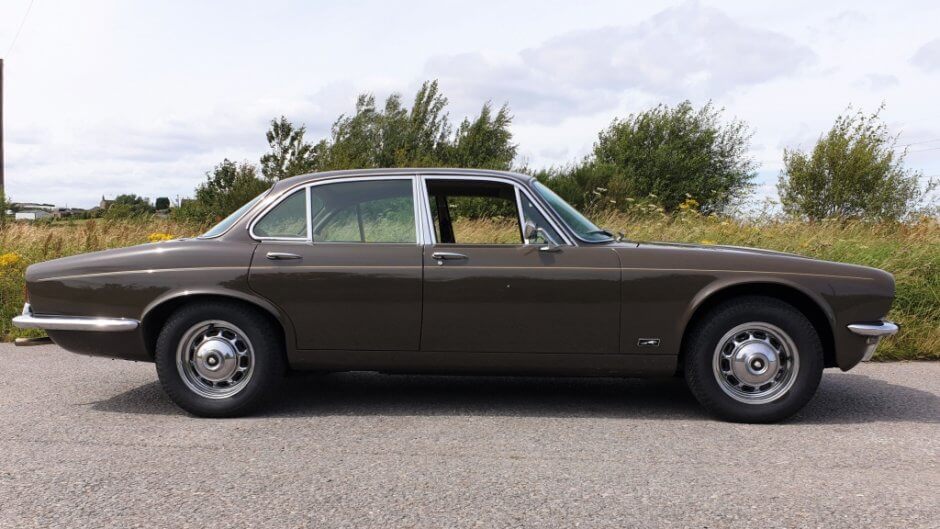 Jaguar XJ6 4.2 Auto Saloon (Series 2 SWB)
£24,000.00
Sable – 1974 – 29,000 miles – low owners – good history – Passport to Service
Available unrestored with full MOT
This is a very rare and genuine time-warp series two short wheel base XJ6 saloon, with effectively 1 owner and just 29,000 recorded miles.  Purchased on 1st June 1974 by Mr Earnest Lynch of Leicester on his retirement and registered as EML1, he kept the car immaculate, using it sparingly and clearly in the dry right up until his death in 2007. Amazingly, he kept the original bill of sale from Sturgess Leicester and this is still with car as well as other correspondence between the supplying dealer.  An obvious enthusiast he had the car Zeibarted from new and the certificate accompanies the car to prove this.  A year later he also fitted a stainless steel exhaust system again with documentary evidence in the paperwork.
Presenting beautifully in period and very original Sable, the bodywork is in wonderful condition. As is to be expected, one or two panels have seen high quality paintwork during its lifetime, though this has been undertaken by specialists and does not detract from the highly original appearance.  The panel gaps are very good for a jaguar of this period, there is no evidence of rust, all the seals are good and the glass superb.  The chrome remains highly polished and complete with no blemishes, dinks or dents.
Most spectacular in this car, however, is the interior which appears to be virtually as it was when it first left the factory.  The leather is unmarked and barely worn, the door cards, headlining and dashboard are pristine, it is almost like looking inside a car at your local Jaguar dealership showroom in 1974.
There is a fitted immobiliser and once deactivated, the car starts on the merest flick of the key, with the AED providing the right amount of cold start assistance.  The engine ticks over smoothly and quietly and once warm settles down to a regular and factory perfect 600rpm.  Putting the car in drive it begins to move off imperceptibly and simply wafts its occupants down the road without any drama whatsoever.  Useful power teamed with silky gearchanges and the XJ fits into modern traffic like it was built last year. Oil pressure is well over 40psi when the car is warmed up and ticks over at around this figure when idling.  The coolant temperature makes its way to the vertical position and remains there whatever the weather and whatever the journey.  Everything on the car works as it should, the windows are fast and smooth, the lights are excellent, all switches, dials and clocks work perfectly.
Following Mr Lynch's death, the vehicle was transferred into his wife's name and in 2008 she had her solicitor handle the sale to Mr Paul Wenham.  Using his contacts in the trade, the car quickly found its way into the hands of classic Jaguar sales specialist Robert Hughes.  Robert Hughes researched the history of the car carefully and has signed a letter stating the ownership route and likely genuine mileage of the car.  As well as this important document, there is a bundle of paperwork including various invoices from Sturgess, A Ken Bell Jaguar Vehicle Assessment Report and a receipt from Agenta Audio for refurbishment of Radiomobile 8 track and internal rebuild of the AM/FM radio.
The car is supplied with its original Passport to Service and has the first two stamps.  It is not known why the service record is not stamped further as there are numerous references to this work being undertaken by Sturgess at the period.  Having said that, this is a vital piece of its documented history and will add to the car's long term collectability.
Purchased by the current owner in 2011, he has maintained it regardless of cost and there are invoices totalling thousands of pounds from respected Jaguar service specialists West Riding Jaguar.  Work known to have been undertaking in his stewardship includes, 4 new period style tyres, new ball joints, reconditioned steering rack, new shock absorbers all round, new brake discs, fitted electronic ignition and a new fuel pump to one tank.  As well as this specific work it has been serviced every year and had regular visits to a professional bodyshop for any attention required.
The owner has copies of MOT back to 2003, a Jaguar Heritage Certificate , copies of old V5s to support the ownership, various manuals for radio, maintenance charts, colour charts, Jag Drivers Club invite etc all in original wallet and a full spare set of keys and immobiliser key. There's even an original spare key still bolted under the bonnet.
A very pretty car in the classic XJ style and we think all the more attractive on the short wheel base.  This is an outstanding, thoroughly sorted, correct and reliable classic you could use every day, and with a little effort give many more expensive cars a run for their money in the show arena.  A real opportunity to invest in a wonderfully useable and appreciating Jaguar.