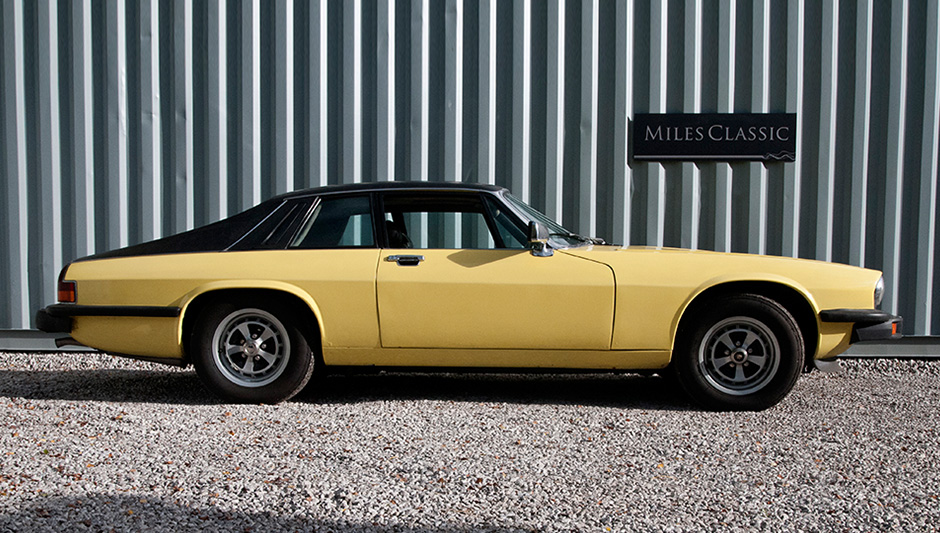 Jaguar XJ-S 5.3 Manual
SOLD
Cotswold Yellow (212) – 1979 – unknown miles – 13 owners – no service – some history
SOLD
An early and extremely rare four speed manual transmission Jaguar XJS 5.3 V12 which although high on miles, high on owners, low on history and a little rough around the edges, is totally solid, surprisingly tight and a wonderfully original base from which to build a spectacular classic car.
Purchased with an MOT which only ran out in June 2013, the car was driven the 60 miles back to the workshop and even enjoyed some light commuting before it was placed in storage awaiting its restoration. During this short period of use, the car started on the button, the engine performed beautifully, the oil pressure was excellent and it drove without any drama.
To give this car the future it deserves, the only sensible option is to undertake a complete restoration. As a Miles Classic project car, it will undergo our Restored option and be transformed to ex-factory specification in as near new condition as possible for the next owner to enjoy. Alternatively, we will build to order and complete it to individual client specification.
One interesting aspect of this car is the official record held by the Jaguar Heritage. A matching numbers car, it is recorded as coming out of the factory in black. Clearly it has had lots of paint, and the documents with it show it to have been repainted maroon at some point in its life, but the engine does not appear ever to have been out and the engine bay and all signs show the original colour without question to have been Cotswold Yellow.
As one of a production run of just 385, the early manual XJ-S is the most collectible model as well as being the one with the most spirited driving characteristics. Once complete this car will be one very well worth owning and should only ever go up in value.