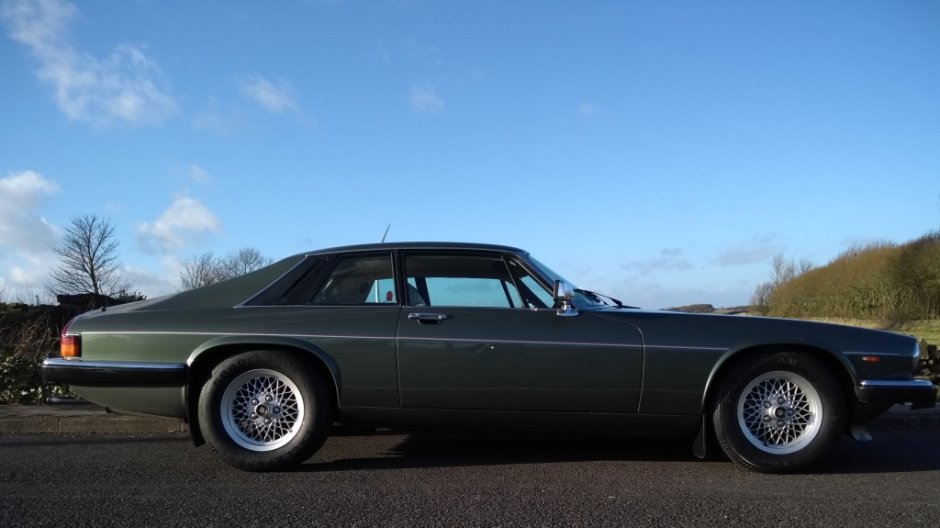 Jaguar XJ-S HE V12 Automatic
Sold
Sage Green (314) – 1985– 39,900 miles – 3 owners – full service – full history
Sold
Available unrestored:
This is a wonderful example of the fast appreciating XJ-S.  Looking absolutely beautiful in the very attractive period Sage Green, the gleaming bodywork shows off the elegant lines of this grand tourer to perfection.  The interior is spotless and in excellent condition and the car drives without fault.  It comes with original documentation and service record and vehicle check confirming mileage of 40,000.
Delivered new in May 1985, this coupe has had just three owners.  As is usual with cars of this type, the original owner kept the car for just three years, in which time he covered around 15000 miles.  In September 1986 the first service at 7527 miles was undertaken by Liverpool main dealer Jaguar House and the second service in August 1987 at 14081 was completed by Southern Brothers in Blackburn.
The car then changed hands to its second owner who appears to have fitted a private plate and used it so sparingly that unfortunately there is a period without service records or other paperwork.  I am assured by the third owner that the car was laid up in excellent condition around 2006 and remained unused for many years, when he finally purchased it in 2017. Finding it with less than 40,000 miles on the clock, which he was told was genuine, the car had suffered paint degradation and some mechanical issues  Spending a significant sum, the third owner had the car returned to roadworthiness and had it professionally repainted in its original colour.
Finding that he didn't have time to enjoy the car, the XJ-S came to Miles Classic quite recently and has now gone through a more thorough investigation, restoration and detailing.
Miles Classic has completed a full recommission undertaking work on the suspension, steering, brakes and fuel delivery.  We have looked closely at the bodywork and corrected some minor imperfections.  The car has had a comprehensive service with all gaskets, bushes, seals, bearings, filters and fluids checked, replaced or changed.  This XJ-S now presents at show standard, it drives faultlessly, it goes very well, stops quickly, changes gear imperceptibly and glides along effortlessly in style and comfort.  It is a pleasure to be inside.
Offered for sale with full MOT and very recent additional service, OSK 785 comes complete with private number plate, original paperwork and even original dealer window sticker.
It has to be remembered that this is a 35 year old motor car and should be looked at under those terms. It is not perfect and a dedicated new owner could well make improvements, but as a car that could be driven to shows, win a prize and driven home, it is second to none.
If you are looking for an XJ-S V12, and to be honest why wouldn't you be, a viewing and test drive of this exceptional car will have you searching for your cheque book without delay.