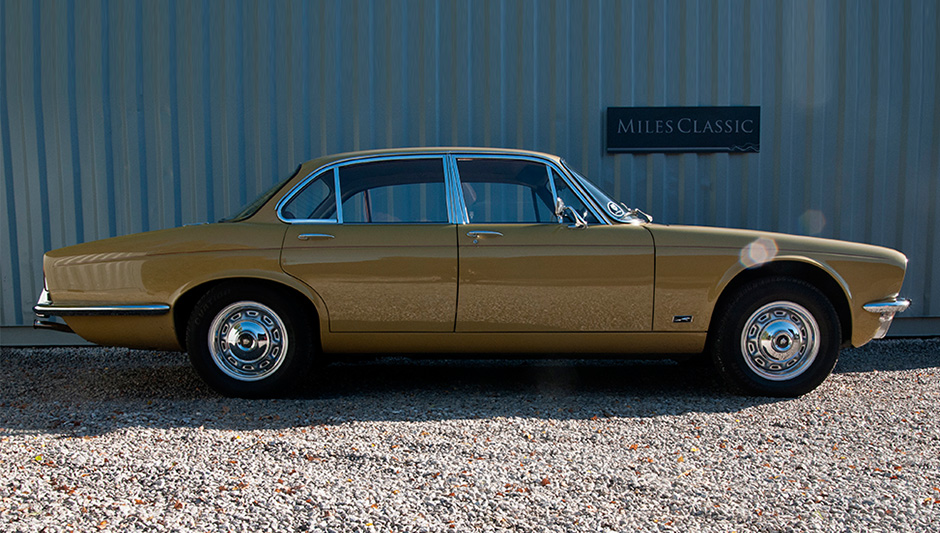 Jaguar XJ6 4.2 Auto saloon (Series 2 SWB)
SOLD
Greensand (252) – 1973 – 39,000 miles – 2 owners – stamped Passport to Service – complete history
SOLD
Price reduced in Spring Sale
A rare series two short wheel base XJ6 saloon with just two owners and 39,000 recorded miles. Used sparingly from the off, the car was dry stored in the early 90's and comes with a letter from the second owner warranting the mileage as genuine. This is supported by the fully stamped Passport to Service.
The car underwent mild recommissioning prior to it coming to us and since then has been subject to a full Miles Classic service together with more intricate detailing and is now an undeniably wonderfully sorted motor car.
Most spectacular of all in this car is the interior which appears to be unused. The leather is unmarked and barely worn, the door cards, headlining and dashboard are pristine, it is almost like looking inside a car at your local Jaguar dealership showroom in 1973.
The bodywork is excellent with no rust or bubbling, the panel gaps have been carefully adjusted and it is hard to fault what many consider is the most attractive short wheelbase version of the XJ saloon. There is a manual choke conversion which when fitted prior to our ownership we tend to leave on the cars. This one has been inspected and serviced and is operating efficiently and with some delicate work on repositioning the pull handle inside the car and rerouting and recovering the cable in the engine bay it does not detract from the originality of the car.
Having been used frequently to attend Jaguar Club events and on special occasions with his family, the MD has personally driven this car for several hundred miles and provides his personal assurance that it drives precisely, is smooth and effortless and totally reliable.
A very pretty car in the classic XJ style and we think all the more attractive on the short wheel base. This is an outstanding, thoroughly sorted, correct and reliable classic you could use every day, and still give more expensive cars a run for their money in the show arena.